Developed by Dr. Aram Nalbandyan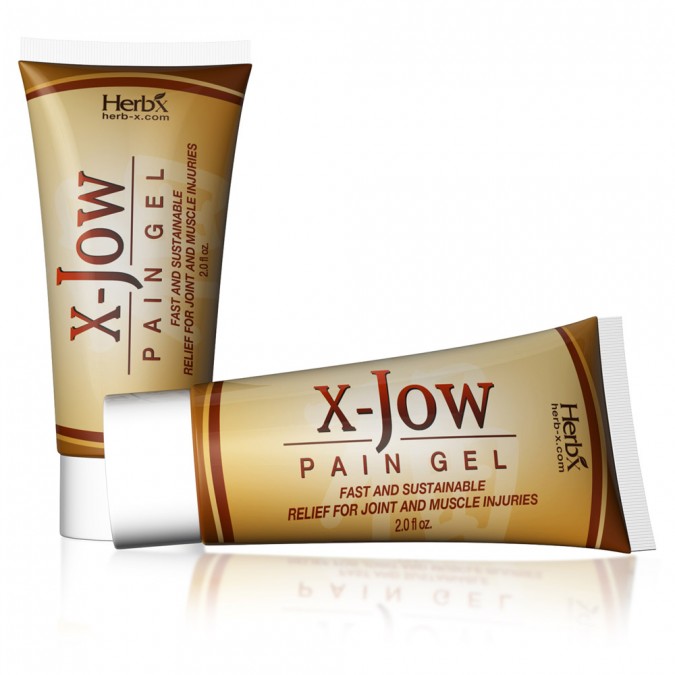 "Naturally the Right Choice" for your pain.
Reduce Inflammation
Stop Pain
Promote Circulation
Repair Tissue
What is X-Jow Pain Gel?
X-Jow Pain Gel is a light, non-greasy gel that has a mild topical sensation, and yet penetrates deep beneath the surface to restore micro-circulation to the injured area. The potent combination of Chinese herbs works to improve blood and lymph flow, nourish and repair tissue, and promote new growth.
X-Jow Pain Gel has been successfully used for many pain conditions. It is effective for both acute and chronic injuries, including sprains, strains, dislocations, hairline fractures, non-healing injuries, arthritic conditions, and more.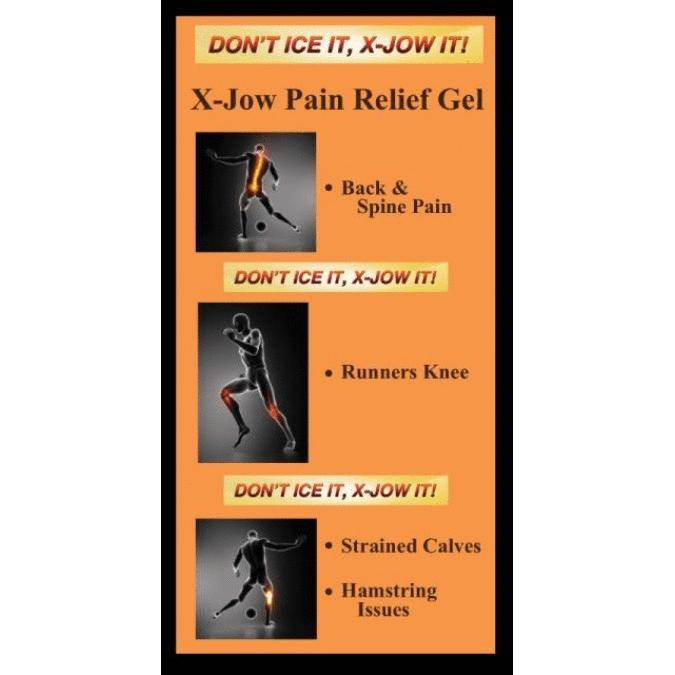 X-Jow, A Different Approach…
There is a saying in Chinese: "Bu tong ze tong, tong ze bu tong" (Where there is pain there is no flow, where there is flow there is no pain.) This wisdom characterizes the traditional Chinese medicine approach to healing soft tissue injuries and is the basis for X-Jow.
When you sprain your ankle, knee, or wrist, it is usually accompanied by swelling, bruising, severe pain, and a limited range of motion. Blood vessels rupture, resulting in subcutaneous bleeding, and the tissue turns black and blue. Allopathic (Western) medicine often recommends icing the injury to reduce the inflammation. Pharmaceutical pain creams and sprays promise cooling or heating effects that are supposed to provide relief from the throbbing.
From the perspective of traditional Chinese medicine, both heat and cold are detrimental to the healing process. In order for the injury to heal, there must be abundant blood flow. Applying ice cuts off blood flow, exacerbating stagnation, and allowing the injury to linger longer. Pain creams that purport to have icy or hot effects may reduce pain temporarily by distracting the body with a superficial burning or cold sensation, but they do not penetrate to the root of the injury or help to heal it.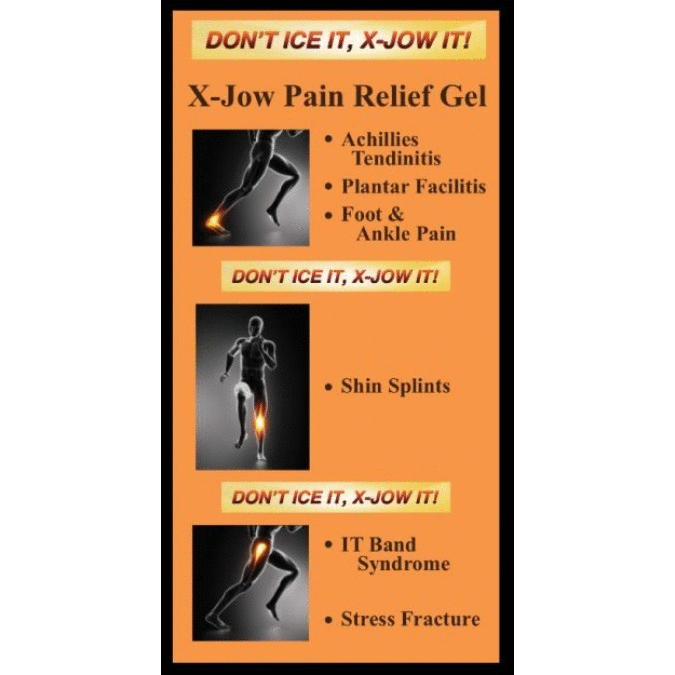 That's where X-Jow Pain Gel comes in. It penetrates deep beneath the surface to restore micro-circulation to the injured area…improving blood and lymph flow, nourishing and repairing tissue, and promoting new growth. Inflammation is eased. Bones and ligaments are strengthened.
Developed over a span of 10 years in Dr. Nalbandyan's clinical practice, X-Jow has been successfully used for many pain conditions, including acute and chronic injuries. Quickly addressing the root cause of the injury, X-Jow is a safe and side-effect-free alternative to pharmaceutical pain medications, creams, and gels.

How to Use X-Jow Pain Gel
For best results, X-Jow Pain Gel can be used in conjunction with massage. Apply it liberally to the affected area while continuously rubbing it in for 3-5 minutes. Repeat 2-3 times daily or as needed.
Warning: Keep out of children's reach. Discontinue use if skin irritation occurs. People with medical concerns should check with their physicians before use.
Active Ingredients:
Menthol USP 1.25 % Cooling Pain Reliever.
Inactive Ingredients:
Natoginseng, Tumeric, Myrrh, Frankincense, Carthamus, Peach Kernel, Corydalis, Angelica Rood, Marsh Orchid, Dragon's Blood, Rhubarb root, Gardeniae, Dipsacus, Drynaria, Eucommia, Red Peony, Acanthopanax Root, Siler Root, Amber, Cinnamon, Cnidum, Ethyl Alcohol Water, Jojoba Oil, Aloe Barbadensis Leaf Extract, Butyrospermum Parkii (Shea) Butter, Jojoba Wax, Olive Oil, Cetearyl Alcohol, Safflower Oil, Sunflower Oil, Macadamia Nut Oil, Perilla Ocymoides Seed Extract, Lysolecithin, Vitis Vinifera (Grape) Seed Extract, Triticum Vulgare (Wheat) Germ Extract, Retinyl Palmitate, Tocopheryl Acetate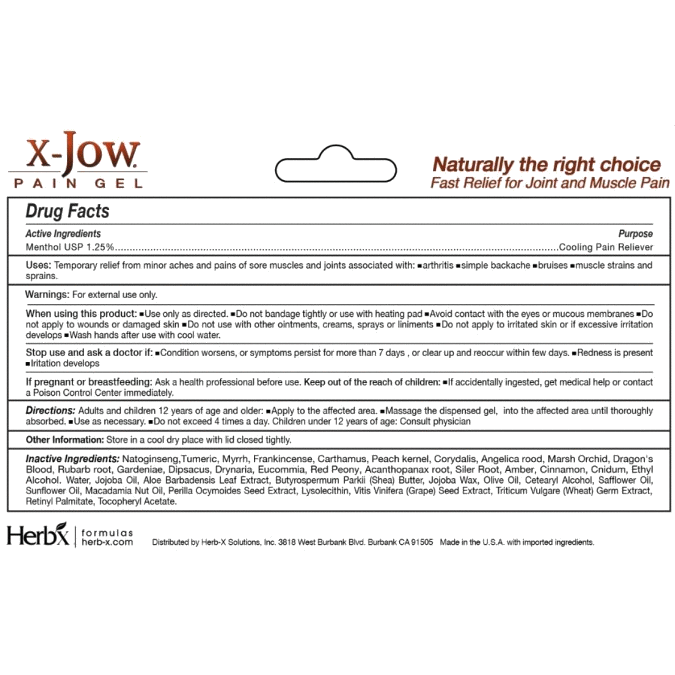 ---
Frequently Asked Questions
Is X-Jow for muscles or joint?

X-Jow is formulated to penetrate to the tendons, ligaments, and joints. It is best used before and after daily activities or major workouts.

How often can I apply X-Jow?

X-Jow is best used 3-4 times a day, in the morning, before daily activities and before bed. It is formulated to increase blood flow to the tissues, and acts as an anti-inflammatory to the tissue, and muscles. For best results use as necessary.

Does X-Jow give a hot or cold sensation?

Neither. X-Jow is non-greasy and has no menthol smell. It is formulated as an anti-inflammatory. It increases blood flow and reduces pain.

Does X-Jow pain cream contain Arnica?

No.

Does X-Jow contain Aspirin, Ibuprophen, Methyl Salicylate (Wintergreen Oil), or Trolamine Salicylate?

No.

Does X-Jow contain Paraben, Alcohol, or Dyes?

No.

Does X-Jow contain Capsaicin?

No.

Can I use X-Jow if I have diabetes?

Yes. X-Jow is a topical pain reliever and some people have found it helpful for relief of diabetic nerve pain.

Can I use X-Jow on an open wound or stitches?

No.

If I am pregnant or nursing can I use X-Jow?

X-Jow has not been tested on pregnant or nursing women. We suggest you check with your health care professional for their recommendations on using while pregnant or nursing.

How long does a bottle of X-Jow typically last?

X-Jow being used consistently, 2-3 times per day should last about a month.

Is X-Jow safe on pets?

Yes.

Is X-Jow made in America?

Yes.