Lion Dance Hawaii – A Cultural Tradition For Everyone
Hawaii is known for being a cultural "melting pot", where people of all ethnic backgrounds have come together to share their traditions and culture with each other. Chinese Lion Dance has become a very popular tradition in Hawaii, and can be seen at a variety of occasions. Hawaii lion dance groups entertain and delight crowds not only during Chinese New Year! Everyone enjoys the excitement and happiness that the lions bring.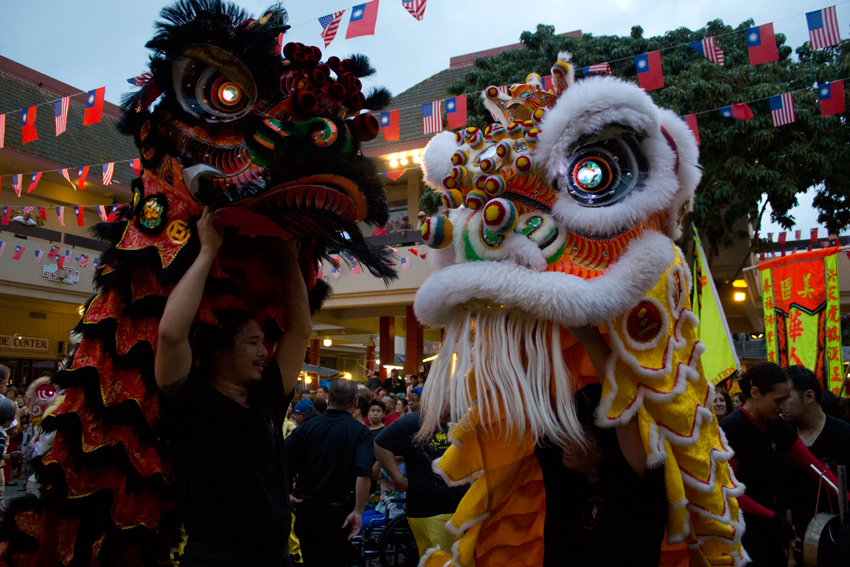 At Saam Fu Chinese Cultural Arts, we teach and perform traditional Fut San (Foshan) Southern Lion Dance. This style is typically performed by Southern Kung Fu schools. Its footwork and movements are strong and powerful, demonstrating the prowess and skill of the Kung Fu practitioners in the lion. Traditionally, the lions were used to chase away or dispel evil spirits. Today, they bring blessings, well wishes and good fortune.
Our performances are dynamic and can heighten an already special occasion, whether it is a wedding, a birthday party, an anniversary, or a grand opening. Our lions love to interact with people and can be quite the 'hams'. If you see us around, stop by and say "Nei hou!" (Hello). Have fun, play with the lions, take a few pictures, and don't forget to feed them.
We have also had the privilege to perform our lion dance on stage at the Chinese Cultural Plaza during Chinese New Year festivities and during the annual Chinese New Year parade in downtown Honolulu. We would love for you to come up to us and we'll wish you a very happy and prosperous Gung Hei Fat Choy!
Let Saam Fu be a part of your next special event and help make it a memorable one!
Or have you always wanted to be a lion dance Hawaii performer? We welcome new members to our family!
Saam Fu Lion Dance in Action